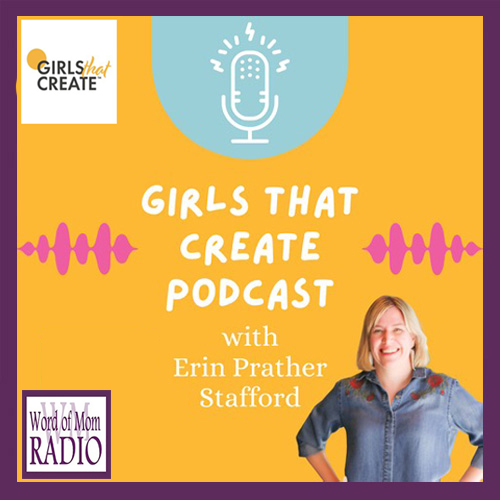 Erin Prather Stafford is the founder of Girls That Create.
Girls That Create (GTC) strongly believes that the arts set culture. Although women currently comprise half of the U.S. population, women are underrepresented in the arts, and GTC is looking to change that!
The independent website supports parents and caregivers of creative girls while encouraging greater female representation across the arts. She launched the Girls That Create podcast with Word of Mom Radio in 2023.
 Girls That Create with Erin Prather Stafford
Kick off Show  Through the years WoMRadio founder Dori DeCarlo has shared Girls That Create and founder Erin Prather Stafford and her work to debunk the myth that girls can't have successful careers as creatives. This show kicks off the first season of the Girls That Create Podcast
Episode 1: Raising Girls Who Thrive  Erin Prather Stafford welcomes her first guest, Dr. Michele Borba on the debut of Girls That Create. Dr. Borba is the author of "Thrivers: The Surprising Reasons Why Some Kids Struggle and Others Shine."
Episode 2: No Ordinary Love  Erin Prather Stafford shares award-winning filmmaker Chyna Robinson and executive producer Tracy Rector and their movie "No Ordinary Love". 
Epidode 3: The Addiction Inoculation For over 20 years Erin Prather Stafford's guest Jessica Lahey has taught every grade from sixth to twelfth in both public and private schools, spent five years teaching in a drug and alcohol rehab for adolescents in Vermont.
Episode 4: Poetry, Songwriting, Creativity Julie Flanders is a sought-after Creative Consultant with expertise in leadership, trance states, and neuro-linguistics. Her clients include world-changers from the fields of culture, technology, thought authorship, and the arts.
Episode 5: Children and Screens Kris Perry has fought to protect children, improve and expand early learning programs,and increase investments in low-income children.
Episode 6: Surface Design, Illustration + As a mentor for multi-passionate creatives Rebecca Rueth cultivates community, coaches and mentors artists, and teaches online surface design courses to help creatives elevate their craft.
Episode 7 Discover and Embrace Personal Style Your Chic is Showing offers comprehensive styling packages and services that are designed to make fashion and style accessible and meet the unique needs of everyone!
Episode 8: Self-Care & Asking Yourself What You Need Renée Trudeau talks about self-care and why you should ask yourself what you need every day. Trudeau is an internationally-recognized transformational coach/speaker/catalyst and the author of two award-winning books.
Episode 9: Empowering Dancers & Creatives Erin Prather Stafford and her guest Emi Matsushita chat about dance as a career and how Matsushita is now a mindset and business coach for dancers.
Episode 10: First Phone: A Child's Guide  Dr. Catherine Pearlman discuss a question all parents and caregivers must face: When should I give my child their first phone?
Episode 11: Women in Film & Documentary Body Parts Kristy Guevara-Flanagan's documentary and experimental films have screened at the Sundance, Tribeca, SXSW, and HotDocs film festivals and the Getty Museum..
 Erin as a Guest on WoMRadio
Girls That Create If you would like to learn more about Erin and the mission she shares at Girls That Create, tune in for this past episode that gave Erin and Dori the idea that it was time for Erin to join the Word of Mom Radio family as a show host!